We are now accepting deposits on these litters. Please Go Here when you are ready to place your deposit on one of these litters.
We are so excited to announce we received our next litter of goldendoodles!
Our first litter from Stella, our F1 Goldendoodlen has arrived:
Stella, our F1 Goldendoodle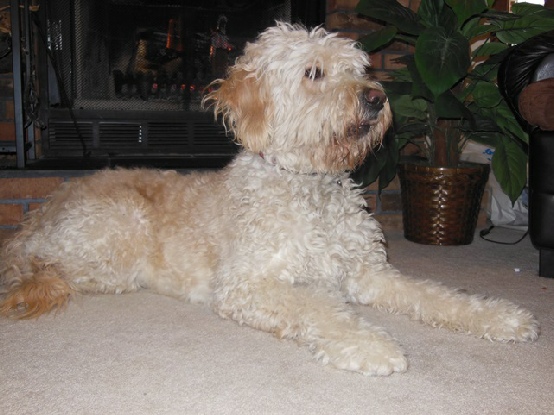 And Ziggy, our Standard Parti Poodle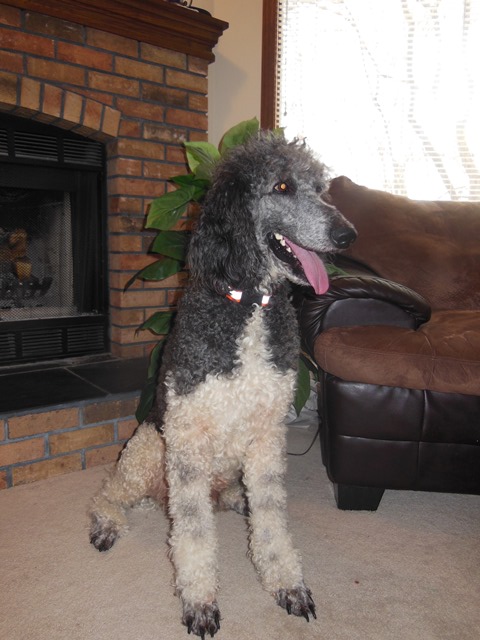 Ziggy, our Hawaiian Stud
Stella is our own puppy from Buttercup. She lives with her amazing forever family, and we simply love her!! Her temperament is exactly what we are hoping for, and are thrilled that her first litter is here. See these puppies now!
Ziggy is the newest addition to our breeding program, and has arrived with us from Hawaii this past winter. Not only are we excited about his beautiful Parti coat and the diversity he will bring to our litters, we are also excited about his amazing personality. He comes from a family where his best friend was an eight year old girl, and in our family, he simply adores all our children. A perfect model of the traits we want to send home with our puppies.
This litter is due mid-April, and will be ready for their forever homes mid-June.
So in this upcoming litter, we are expecting F1b puppies with a variety of coat colours and qualities. Stella brings creams and reds, and Ziggy brings black, cream, parti, non-parti, and chocolate. Most litters you get a rainbow of variety between all the puppies, and we feel this makes the anticipation of the puppies a lot more fun.
If you are new to the Parti gene, I am working on a load of information from a health perspective why we LOVE the parti poodle and think its genetic diversity is a great addition to our holistic breeding approach. In the meantime, what it means to you is some of the puppies will be born two-colored. In our case, some will be chocolate/white and some will be black/white. We cannot guarantee which we will have until the litter arrives.
Our other exciting litter on its way is Coconut and Ziggy.
Coconut, our F1 Goldendoodle with Ziggy will give us a similar litter to Stella's. We are looking forward to the arrival of her puppies at the end of April. These puppies will be ready for their forever homes at the end of June.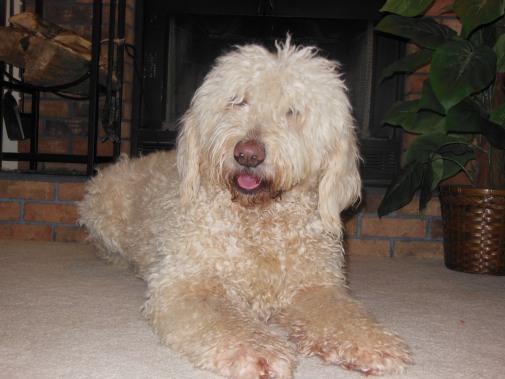 Coconut - F1 Goldendoodle
Also ready at the end of June will be the puppies of Jasmine our beautiful chocolate parti standard poodle. Yes, we are doing a poodle litter this year. These puppies will be raised holistically, just like all our other dogs. Also, we do NOT dock tails (which is the poodle breed standard), and we groom them to look much like a goldendoodle. We are encouraging those families with severe allergies to take the time to consider meeting our fantastic poodles and see if that is a good fit for your family.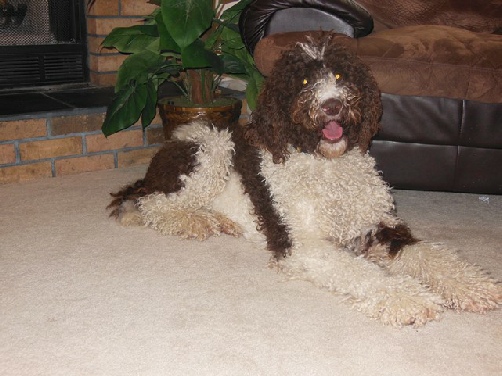 Jasmine, Standard Poodle Girl
We are also looking forward to an F1 litter later this spring. We are planning a litter between Buttercup and Ziggy when she goes into heat.
Please remember, we match puppies with their forever families based primarily on temperament. We understand that often families have very strong opinions about the coat color of their dog for legitimate reasons, and we try and work with that as much as possible. However, we will not place a puppy with an incompatible family simply because she is the right color.
Now that the litter is almost here, we are accepting deposits for these litters. Your options at this point are as follows:
1. Place a $250 deposit to reserve a puppy from any of these three litters above.
2. Place a $50 deposit to remain on our waiting list in order for one of our other upcoming litters this spring.
3. Register, and I will maintain your information on our list and notify you of the next opportunity that arrives with our puppies.
Payment Options:
1. Go to: Our Fee Schedule Page
And place the $250 or $50 deposit via the PayPal link on the bottom of the page. If you choose PayPal, your confirmation will be your receipt of deposit with us.
2. For our Canadian friends: Send the funds ($250 or $50) via an etransfer to payments@canadianenglishdoodles.com. Please phone or text me the password to use. Please do NOT email the password you select. If you choose to etransfer the funds, I will email you a receipt of your deposit within 24 hours.