Breeding
Breeding Golden Doodles was an easy decision. Their temperament made them perfect for our family of children. We want to share that with other families. They truly are the best pets for kids.
With so many people out there with allergies to dogs, it was important to select a breed that gave access for families with allergies to a great family dog. Having non shedding dogs, or hypoallergenic dogs available to choose from, opens up a world of opportunities for people.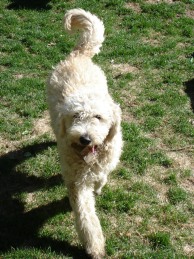 How to make it Special
There are enough dog breeders in the world to fill a small country. We did not want to do this just to be like everyone else. We only wanted to do it if we had something special to offer the hypoallergenic dog world. So what could we do?
We are Holistic Breeders. That means, we also promote Holistic Pet Care - encouraging you to take the best care of your pets the way nature intended.
We believe strongly that a Golden Doodle should never see the inside of a Rescue Shelter or Pet Store. That is why we have implemented No Doodle Left Behind.
Socialization and Habituation are extremely important to us. We want any of our Teddy Bear Goldendoodle Puppies to Adopt to be well prepared for the homes they are going to.
Puppies for Sale
Be sure to check out Our Puppies Page to learn more.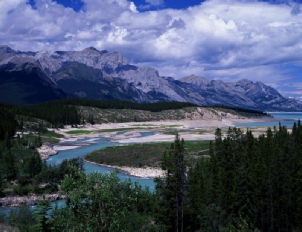 Our Puppies are all lovingly raised on the edge of the Rocky Mountains in Calgary, Alberta, Canada. We are proud to be one of the great Canadian dog breeders.
If you are just learning about this wonderful breed of the English Goldendoodle, or are wondering about what makes English (or Teddy Bear) Golden doodles special, please take some time to hang out on our site.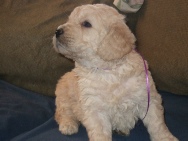 You might learn some fun information, or see some great photos, or meet your new best friend here.
Canadian English Goldendoodles is an ever changing site. Please make a point to come back often. See what is new for Doodle owners, as well as share your Doodle journey with us!
Breeders of Quality Goldendoodle Puppies
Our Goldendoodle
We love Goldendoodles.
I love when I come in the door, and she is there to meet me.
I love how our goldendoodle has such a gentle spirit when she sits at my feet in the evening. How my kids can curl up next to her, and how much she loves them.
We have a lot of fun with all the fun ways we can groom her throughout the year.
We love being a goldendoodle breeder.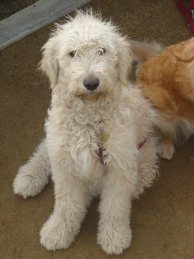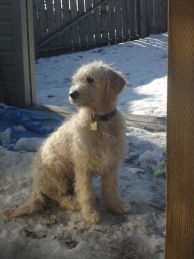 UPDATE
We have received a great amount interest this year for our puppies. We are currently taking deposits for 2017. We will be sure to notify everyone on our waiting lists once we have our next confirmed litter.


Please consider supporting us as we fund raise to help prevent the human trafficking of children.
Every dollar you donate will be deducted from the cost of your puppy.




© 2015 Canadian English Goldendoodles: Calgary, Alberta, Canada, T2Z1W7, 403-335-5915