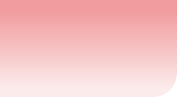 Please consider supporting us as we fund raise to help prevent the human trafficking of children.
Every dollar you donate will be deducted from the cost of your puppy.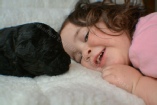 How to Adopt
What to do next to secure your puppy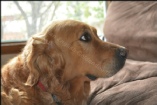 Upcoming Litters
See what is in the works with our goldendoodles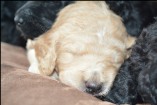 Our Puppies
How you want your puppy taken care of while it is still at the breeder.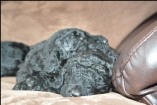 Choosing a puppy
How to make sure you take home the perfect puppy for your family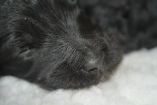 Puppies
Stella's goldendoodle puppies at:
Jasmine's poodle puppies at:
Buttercup's Goldendoodle Puppies at:
Coconut's Goldendoodle Puppies at:





Puppies To Adopt...11 Weeks Old




Have your say about what you just read!! Leave me a comment in the box below.
Want to keep in touch with the progress of our puppies? It's easy. You can:
- Follow us on Facebook by liking our page here.
- Follow us on Twitter Here.
- Subscribe to our RSS feed by clicking on the link at the top of this page.
- Join our e-zine by registering here.
- Join a discussion in our group on LinkedIn.
The past few weeks have been extra busy with half of the puppies going home coupled with regular life homeschooling four children. All the puppies have been developing well and are growing rapidly. Their average weight is over 20lbs. The remaining puppies are now of the age where simple obedience training is possible and the response has been great.
We now have 2 girls and 4 boys left. One of the girls is an F1B and the rest are F1s.
Read about their personalities below:
White - is a very easy going boy. He has the squarest face of these puppies, so he will have the wider doodle head. He is very laid back, and gets along with everyone - kids and other dogs alike. He is just as happy to wrestle with his brothers, as he is to cuddle up with his sisters. What we have always liked about White is no matter what he is doing, as soon as you pick him up, he turns to jell-o and curls up in anyone's arms as long as they will pet him for. When he is put back down, he simply goes back to whatever it was he was playing with. His easy-going nature makes it nice when daily schedules change as he really doesn't complain about anything.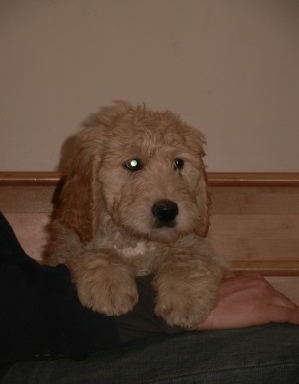 Red - is a very quiet, laid back girl. She has more of the retriever face, and her coat is stunning. She will end up being a beautiful dog! She has the retriever personality that she LOVES to carry something around in her mouth all the time. The first thing she does when she comes in the house is grab something, which she would be happy to bring to you if she can keep the other puppies from wrestling it from her mouth *smile*. When she approaches you, she often lays on her back immediately, and is VERY submissive.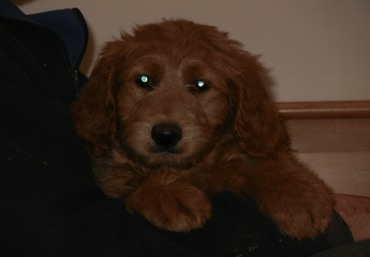 Dark Green - is a slightly more energetic boy. He would do well in a home with older children as he would enjoy keeping up with their games. He is intelligent, and trains well and very quickly. He is obedient to us, and gets along well with the other dogs, and really likes to have someone else to play with. He does well with having multiple siblings around because there is usually someone available to wrestle with. He is a very loyal dog, and chances are if you look down, you'll find him sitting right beside your leg waiting for a pet on the head.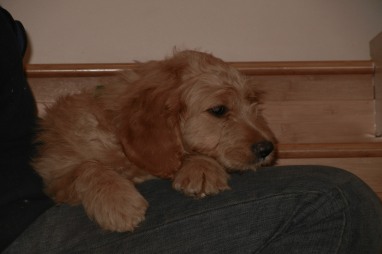 No Ribbon Girl is an absolute joy for the kids. Her affection and playful spirit make her fun for both the children as well as her brothers and sisters. She can always be found creating fun games to play. With her curly coat, she will be great for allergy sufferers.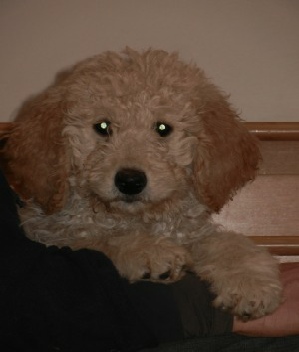 Light Blue - is as easy-going and laid-back as puppies come. From the very beginning, he is willing to go along with ANYTHING. If you can picture the puppy dressed up in doll clothes, pushed in the baby carriage, this is him. He simply loves the attention of the kids, and is happy to lay down in the middle of them and be part of whatever they can dish out at him. He simply NEVER barks, instantly crate trained, and picks up on whatever is being asked of him. He does well alone or with others.
Light Green - For looks, he stands out because he has the most perfect Golden eyes. They have that natural 'sad' retriever look and simply steal your heart. He is also a quiet puppy, and submits easily to all of us. He does do well being left on his own, and wouldn't complain about being alone for longer periods of the day if it was asked of him. We enjoy his fun and his life, and the kids enjoy being out in the yard with him because he engages well and easily with their fun games. He likes to climb up on the playpark and go down the slide with our daughter.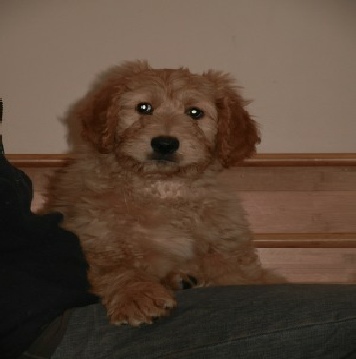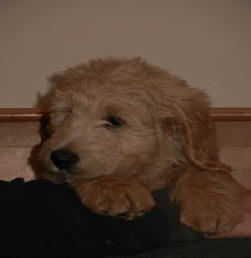 Have you ever wondered what we look for in our puppies to match them to their families? Check out Choosing a Puppy to learn more.



© 2015 Canadian English Goldendoodles: Calgary, Alberta, Canada, T2Z1W7, 403-335-5915