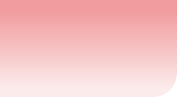 Please consider supporting us as we fund raise to help prevent the human trafficking of children.
Every dollar you donate will be deducted from the cost of your puppy.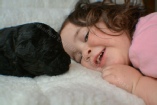 How to Adopt
What to do next to secure your puppy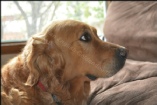 Upcoming Litters
See what is in the works with our goldendoodles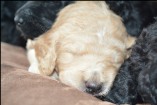 Our Puppies
How you want your puppy taken care of while it is still at the breeder.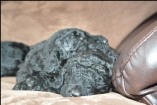 Choosing a puppy
How to make sure you take home the perfect puppy for your family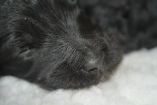 Puppies
Stella's goldendoodle puppies at:
Jasmine's poodle puppies at:
Buttercup's Goldendoodle Puppies at:
Coconut's Goldendoodle Puppies at:







Want to keep in touch with the progress of our puppies? It's easy. You can:
- Follow us on Facebook by liking our page here.
- Follow us on Twitter Here.
- Subscribe to our RSS feed by clicking on the link at the top of this page.
- Join our e-zine by registering here.
All the puppies have discovered their growls and calls and love to use them, especially at 6:30 in the morning. Although each puppy enjoys practicing dominance on each other in their play, we are pleased with the gentle nature that they all possess.
Here are updated photos on this years litter. See the links at the right of this page for temperament and personality descriptions from previous weeks. If you're interested in inquiring about one these puppies please refer to them by the name next to their picture.
The Girls
Our Goldendoodle Puppies are over 4 weeks old now! They can run around now, although not with that much grace. They have learned that there is a world outside of the whelping boxes and are very motivated to explore it. Puppies have started to be weaned and are all growing very sharp little teeth. Also the differences in personalties are becoming very clear. Puppies will be selected this week for those homes that have reserved one.
Red continues to be a charmer. With her beautiful phantom coat, and her easy going nature, she shows beauty inside and out. Rarely alone, she would do well in a family with other dogs or children, especially where there is someone home during the day.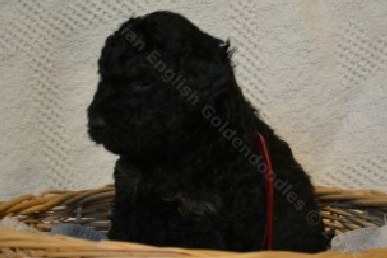 Yellow has discovered her curious side, and is often one of the first puppies out of the box. She has a playful spirit, but is also so submissive that she is a favorite of our littlest helpers. She would be happy to have time to herself during the days, and will be easy to train.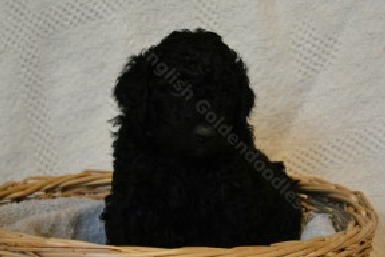 Blue is a very cuddly puppy. Though she loves to play and explore her new "larger" world, if there is a lap to crawl onto, she's there. Sweet and easy going, she will do well with other pets and someone home during the day.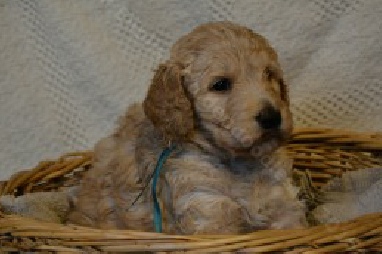 Teal is one of our most entertaining puppies at this stage. Her sweet curiosity keeps us giggling while she plays. Though adventurous, she has a gentle spirit. She will be easy to train and will enjoy a family that will teach her to do tricks and keep her busy.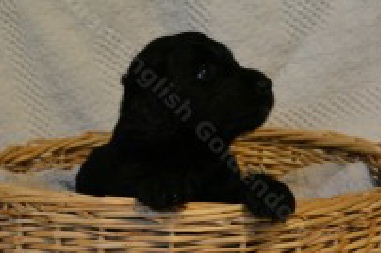 Pink is our sweet beauty. Often one of the last puppies out of the box to play, she is quietly sniffing around while the others are goofing off. She does not wander far from a friend, and will do well with other dogs or young children to love her.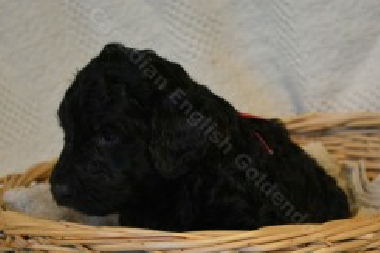 More Puppies
We have another litter of goldendoodle puppies. Coconut had four beautiful puppies that are doing great. Head here to follow their pictures or to see if they would be the right fit for your family.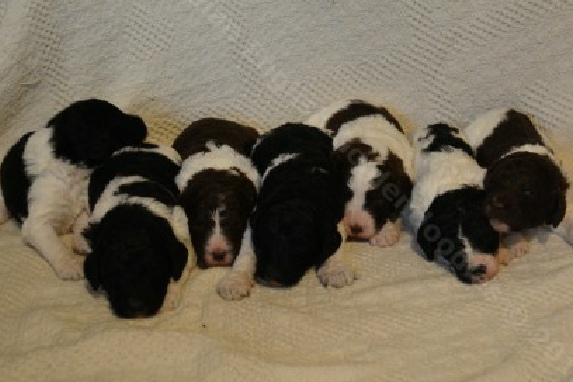 We also have a litter of poodle puppies. Jasmine had seven beautiful parti poodle puppies that are now two weeks old. Head here to follow their pictures or to see if they would be the right fit for your family.
Orange continues to be one of our playful puppies. The big surprise from him this week is he is also one of the quietest. He would do well in an active family and would do fine with time by himself during the day and a big long walk at night. He would love to spend time camping and exploring.
Green iis the current entertainer. He is simply so playful and energetic that he is right in the middle of whatever is going on. He is a friend to any other puppy who wants to play, and simply loves the kids bringing him around the house exploring the big world with a friend.
Indigo continues to be our big teddy bear. He is so content to be carried around, cuddled, wrestle, explore, or whatever anyone else wants to do. Knowing just how to call for his mom or his littermates, he is a dear friend to all our dogs and kids.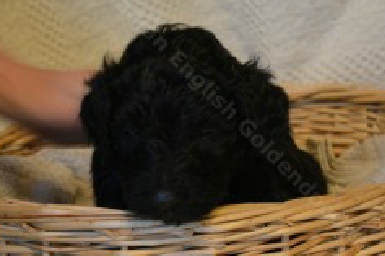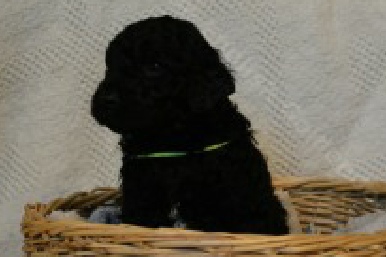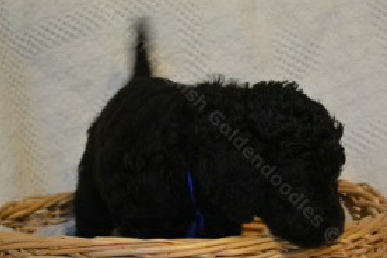 Have you ever wondered what we look for in our puppies to match them to their families? Check out Choosing a Puppy to learn more.
Purple will tug at your heartstrings. She is simply one of the sweetest, most affectionate puppies you will find. Seeking out any puppy or child looking for some love, she is the comforter of the group. If there is a puppy giving kisses, it's her.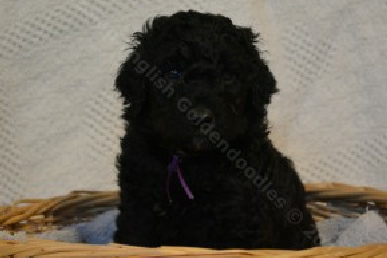 © 2015 Canadian English Goldendoodles: Calgary, Alberta, Canada, T2Z1W7, 403-335-5915